Fostered Shelties and Other Friends
There may be only one Kelsey,
but there are lots of wonderful Shelties.
---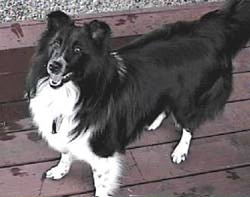 Sunny
Sunny was our first foster Sheltie. She was so full of life that we knew we had to find her a home that would appreciate her. We did. She now lives with the family of a co-worker and their older Sheltie, an 80 lb giant of a Sheltie. The two dogs hit it off well and have become best friends. Sunny has even made peace with the cat in the household. Congratulations on your new family Sunny!
---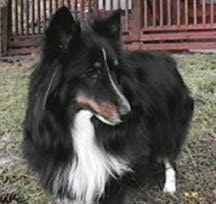 Chassie

This is Chassie, one of two Shelties turned in to the shelter by a family that was moving and didn't want to take the dogs with them. A neighbor took the older Sheltie but Chassie was left behind. She was a one and a half year old spayed female with a wonderful personality. It looked like she had never had a bath in her life and her hair was a mess. She was quiet, but not shy. She had never been allowed in the house and it took a little work to assure her it was OK. Several hours of cleaning and a trip to the groomer and she turned out to be very attractive, if a little overweight. She was adopted by an elderly lady locally and now enjoys the good life.
---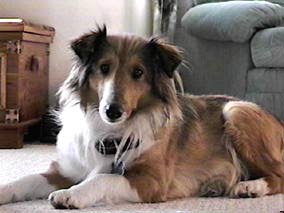 Keno
Keno, was an AKC registered 2 1/2 year old. When we got her she was waiting for her new coat after having a litter a couple of months ago. Her family had to move and couldn't keep her. We were lucky to find a perfect home for Keno, now called Carley. Carley is the center of attention in a loving environment were she is a companion to a woman that is a full time caregiver for her elderly parents. Her new owner is thrilled with her and is doing everything we recommended to make her feel at home. I did realize, however, that there was the possibility that she might become spoiled when I told the new owner that she could try putting some peanut butter inside a chew bone to get Carley interested in it. The new owner turned to Carley and asked her if she would prefer peanut butter or cashew butter.
UPDATE: Carley is doing fine and her hair is looking good. It's starting to come back in but it looks like it will be a while before she's all dressed up. She is spoiled, as predicted, but very well taken care of.
---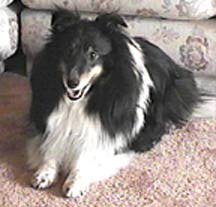 Konan

Konan was turned in the shelter because his owners didn't have enough room for him. He is very overweight but a perfect gentleman. He never barked, growled or had an accident in the house. He had a very heavy coat from sleeping outside which made him look even fatter. We worked on getting him to go up and down the stairs as an excercise program and it seemed to be working.

Konan now has a new home with a great family that already has one Sheltie so they know how special Shelties are. He now gets all the attention that he could want. We had to find him a really great home because we were getting so attached to him. The new owners have promised to trim him down so we look forward to seeing him this summer.
---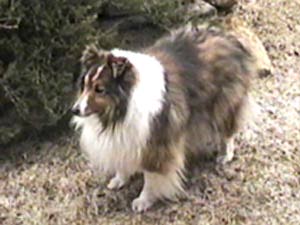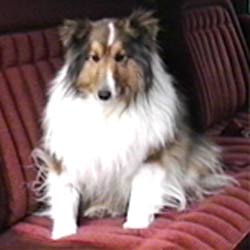 Samantha

Samantha was a 7 year old spayed female Sheltie that was very overweight. (50 lbs.) The good news is that the vet discovered she had a thyroid problem and we started her on it soon after we got her. She was a very sweet dog and loved everyone, especially women. She was turned in to the shelter with her companion, Socks, a 12 year old German Shepherd because her owners were moving to a no-pet location. With a body that seems to fight her every move, losing her family and even Socks, she was a confused little lady. Even through all this she did her best and waged her tail for everyone.

Samantha is now in her new home and working on becoming a properly sized Sheltie. She was adopted by a grandmother and her granddaughter who have set up a strict exercise program and diet for Sam. After just a week she had already lost 4 pounds and was getting up and down easier. The Thyroid medicine really helped her attitude and gave her more spirit.

We'll be posting an update later on her progress. By the way, Socks got adopted also!
---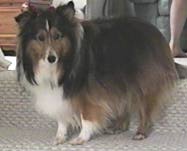 Bridgett
Bridgett is not a foster dog, just a welcome visitor. She visits when her mom can't be with her. She looks remarkably like Kelsey, just the next size up. She's a rescue Sheltie that is still a little shy, but she has improved remarkably during the last year. It was hard to get a picture of her because she would turn away everytime I pointed a camera at her. On the other hand, she loved to run and chase me around the house. It was wonderful to look down and see Kelsey and Bridgett curled up together at the foot of the bed.

---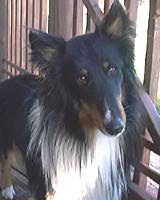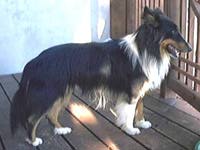 Shep

Shep was turned in because "there was not enough room". He is a two year old, thin, happy boy. He required the standard Sheltie cleanup and he suffered through it without complaining. Shep has a wonderful personality and looks like he would be an excellent obedience dog. He works very well on a leash and constantly watches you to see what you are doing. Shep came from the same breeder as Keno/Carley (above), so we had a small family reunion over the weekend. By the way, Carley is very happy in her new home and is doing wonderfully. Shep shares at lot of the same traits and some of the same features. Let's also hope he shares the same happy future in his new loving home.

---
Back to Kelsey's Page